Nick-notchers
Dicar offers various Nick Notchers for instance the Quick-nick and the Unique.
The Unique Nick grinders are pneumatic or electric driven and have been designed for easy and precise nicking of steel rules operations.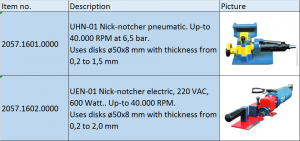 Quick nick is a useful tool for nicking steel rule in a secure way. Makes clean, burr free nicks.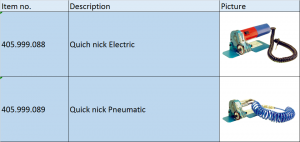 If you are also interested in the grinding discs in our assortment please look at:
UHN-01 Air Driven Nick Grinder from Dicar BV on Vimeo.
UEN-01 Electric Nick Grinder from Dicar BV on Vimeo.
Door de site te te blijven gebruiken, gaat u akkoord met het gebruik van cookies. meer informatie
De cookie-instellingen op deze website zijn ingesteld op 'toestaan cookies "om u de beste surfervaring mogelijk. Als u doorgaat met deze website te gebruiken zonder het wijzigen van uw cookie-instellingen of u klikt op "Accepteren" hieronder dan bent u akkoord met deze instellingen.