Crushless wheels and no-crush wheels for your inliners and corrugators to avoid damage to the flutes of your corrugated cardboard and assure correct board transport through your machine
Dicar Crushless wheels are produced to perform in the best possible way in each environment; dry or humid, cold or warm. The Dicar Crushless wheels offer the highest wear resistance possible yet are very flexible to avoid damage of your corrugated board. The wide variety of wheels offers models for press-in-bearings or to stretch over bearings. We stock the most common sizes and we also offer custom made solutions. Especially on your currugator wet-end you wnat the wheels to just guide your board and not damage the flutes. The heat and humidity can influence the quality of polyurethane. Therefore Dicar has created a special formula that resists the extreme heat and humidity on your corrugator. Dicar Crushless wheels are available in various hardnesses. Of course we have colour coded the different hardnesses to allow quick recognition. Each specific applications asks for a different hardness. Make sure you mount the wheels in the right direction to assure the best performance. Dicar technicians are able to advice you about the best choice for your application. We supply our products to OEM's and end-users. Contact us to help you with your choice.
5The high flexural modulus structure and formulation of our Crushless wheels provides long life while eliminating damage to the board.
In order to meet our customers specific requirements we supply the Crushless wheels in different durometers which are colour coded for easy visual identification.
Colour Coded by Durometer
Yellow 40 Shore A

Grey 50 Shore A

Blue 60 Shore A

Green 70 Shore A
Benefits:
Reducing board deformation
Long lifetime
Durometer for any requirement
Dimensions for any requirement
Consistent quality
Maximum durability
Applicable:
As hold-down wheel on the Corrugator
As guiding wheel
As feeder wheel
Mounting methods:
Hub mounted
Shaft mounted on Corrugators and front feed rolls
Wheel with bonded hub
Snap-In Bearing
For any question, please use our questionnaire.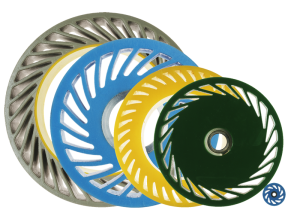 Form for Crushless wheels: Pagina 19 van CT-Catalogue-2-GB-y07m07-screen