Anvil Removal Tool for A2R covers
This special designed removal tool for Dicar A2R anvil covers will open your anvils in a split second! This removal tool is a replacement for a standard bended screwdriver. It is saver and better in use.
How to use the Dicar Removal tool for A2R: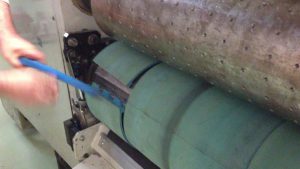 For more information on Dicar A2R and A2W Covers click on this picture:
Other items to be used with rotary die cutting:
Door de site te te blijven gebruiken, gaat u akkoord met het gebruik van cookies. meer informatie
De cookie-instellingen op deze website zijn ingesteld op 'toestaan cookies "om u de beste surfervaring mogelijk. Als u doorgaat met deze website te gebruiken zonder het wijzigen van uw cookie-instellingen of u klikt op "Accepteren" hieronder dan bent u akkoord met deze instellingen.