Anvilok A2 boltless anvil cover for quick and easy cover rotation and extreme long life time. Try this leight weight cover that makes your work much easier.
The Anvilok® 2 cover is ideal for quick easy rotations. Dicar's line of boltless Anvil Covers have a patented dual durometer compression lock . The dual durometer lock eliminates any soft or flat spot over the lock area to ensure consistent wear and cutting. They are around 25% lighter in weight than steel backed covers due to the fiberglass backing which makes the covers easy to handle, remove and rotate. Also available in Xtrawide version on certain sizes to reduce the number of covers per set, reduce seams and offer quick cover rotations. All our covers meet the OEM thickness specs to assure the correct box speed. Online Product Catalog To easily search through all products Dicar offers, we advice you to view our Online Product Catalog. Dicar offers a wide range of durable urethane components for diecutting and converting including our world leading Anvilok® rotary diecutting blankets, Crushless® Wheels, Lead Edge Feed Wheels, Dicar Equalizer, Tools, Tooling and specialty components such as SpeedStrap™ Magnetic Pull Straps and much more. Click on the catalog image to view our online catalog. Custom Solutions If we don't stock a product to meet your specific needs, give us a call. Dicar's Custom Solutions are engineered and manufactured to meet your exact needs. All Dicar urethane products are cast using unique proprietary formulations and manufacturing processes to meet your specific performance and quality requirements. Quality Dicar parts are found on more new machines than parts from any other manufacturer/supplier of urethane products. We provide custom components for OEM and non-OEM customers.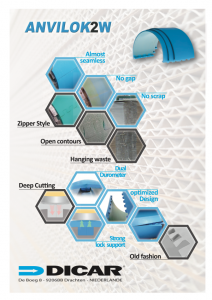 Anvilok A2 boltless anvil cover
Standard Width
Boltless
Dual Durometer Lock
Fiberglass Backing
Quick, Easy Rotation
Dicar's range of durable urethane rotary diecutter anvil blankets/covers offer a solution to fit virtually every available rotary diecutter size. Our product lines include conventional bolted and Boltless® designs in both standard and Xtrawide widths. All Dicar blankets are cast and cut to precise specification to provide outstanding quality and performance.
Dicar Beläge Rotieren unter 2 min from Dicar BV on Vimeo.
A2 Rotation from Dicar BV on Vimeo.